Ever wonder how to present e-learning course ideas to your customers?
I had a conversation the other day with someone who was presented with a somewhat boring course project. We chatted about ways to make it less boring. During the conversation, the person was concerned that the customer would never go for a different idea and only wanted the tried and true, click-and-read course.
This is a common challenge because the easiest course to build is the linear, explainer type course with information and next buttons. It's also what many customers are used to, so trying to get them to see a different way to approach the course design can be a challenge, especially with a tight timeline and limited budget.
Here are a few ideas to get you thinking.
What type of course are you building?
Determine if the course is an explainer or performance course? An explainer course is one where you present information, but there is no performance requirement. This can be tricky because many courses are related to performance but the course itself may not have a performance improvement angle. A lot of compliance training falls into this bucket.
For example, ethics training is important and we want people to be ethical. But the training tends to focus on policies and principles. And the end measure is a final quiz to certify completion. If it was performance-based, then it might look like this:
The organization has an increase of supply costs and realizes that employees are taking things home. The organization has a laid back culture where taking things home was tolerated because it wasn't a big deal. In that sense, the performance goal is to decrease the supply costs by focusing on the ethics of taking things home for personal use.
Explainer courses generally require less effort and end up becoming the default way courses are constructed.
Help the customer see the difference in e-learning course design ideas.
I like to give the customer a few demo courses that represent different ways to approach course content. Limit it to three types of courses. One type is too limiting which tends to cause a lot of scope creep as people come up with different ideas. And more than three can be debilitating because it takes time to review and explain all of the options.
The three options I recommend are:
simple linear course
linear plus some simple learning-based interactivity
decision-based interactivity.
Here's an example of how this plays out from a previous blog post on creating objectives for compliance training.
A simple linear course is mostly content. The content is relevant, but it's still just content. And the performance measure is a completed quiz to certify a base level of knowledge, exposure to the content, and attendance.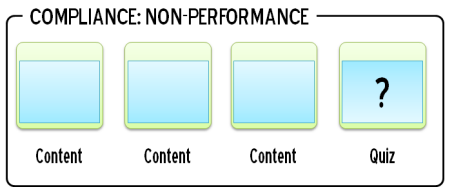 The next stage is a blend of content, practice activity (focused on some relevant performance expectation) and then a means to certify understanding. With compliance training, a lot of the content is already known, so it's mostly a way to refresh understanding and then an activity to practice using the content.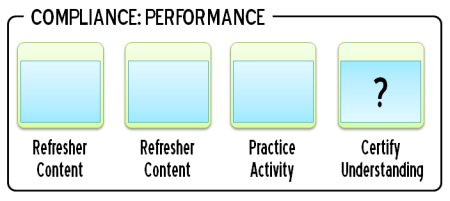 When there are real performance goals it starts with a current gap in ability. Assuming that training is the correct solution, the course focuses on the type of content and activities that the learner needs to demonstrate their ability to make the right decisions. I try to focus on relevant decision-making activities.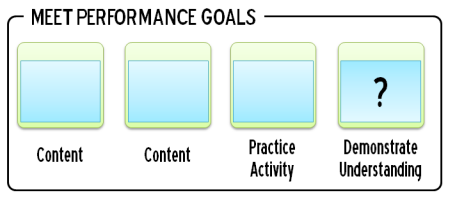 I recommend that you convert some compliance training that is common in the organization to three versions that you can present when meeting with clients. It's content the client probably recognizes. And seeing the same content three ways lets you show and explain the differences and why you'd recommend one over the other.
What e-learning course design idea does the customer really need?
If the course is an explainer course, then I try to keep it linear and as simple as possible. If it's a performance course, I lean towards decision-making activities. But I like to have the customer see the difference.
The customers generally choose the second option because it's a type of course they understand, includes some focus on performance and interactivity, and is a lot quicker to build. This is where your performance consulting hat comes in. The client's choice may be the easiest for them, but it may not be the right one. You can guide them to the right decision when you know what the performance expectations are (assuming they have some) and how the course's success will be measured.
Obviously, there's a lot more that goes into helping a client build the right type of training. Hopefully, these ideas help. If you have others you'd like to share. Jump into the comments and let us know.
---
Download the fully revised, free 63-page ebook: The Insider's Guide to Becoming a Rapid E-Learning Pro
Events
Free E-Learning Resources